Article by Emily Vasquez and appears in Modern Metals Magazine, September 2015.
Service center realizes unexpected savings by upgrading gauging system
September 2015 – Where there is a problem, there must be a solution. When Vince Gallo first arrived at Nova Steel in 2013, he noticed the Stoney Creek, Ontario, facility was using an older gauging device that needed to be replaced with something far more accurate. The pickling line at the service center had an X-ray gauging system in place, but it was "difficult to read and effectively distribute gauge charts," says Gallo. "People today want more accurate, precise information." Seeking to increase its capabilities, Nova Steel installed a new slitting line along with new state-of-the-art measuring technology, improving process control and increasing output.
"We had some old gauging devices installed on our pickling line," says Gallo. In September, we ordered a new slitter but, as we had very limited gauge reading capabilities, we called on Advanced Gauging Technologies again," says Gallo. The AGT800 laser thickness gauge, which was installed in February 2015, was just the solution Gallo needed.
With over 30 years in the service center industry, Gallo's knowledge of gauging technology spans three decades and his search always led him back to A.G.T. "There was never any question," he says of his decision to go with the Plain City, Ohio, instrument maker for Nova's gauging needs.
Gauging instruments, he says, is "a market that has fewer and fewer players because of its difficult technology, but A.G.T. has a lot of experience and a wealth of knowledge. In the last 30 years, I've dealt with about 11 of their gauging systems."
Steve Venters, sales manager at A.G.T., confirms, "We have known Vince for many years. In fact, he bought several of our very first AGT400 isotope thickness gauges more than 15 years ago. He's been familiar with our gauges from his experience at other steel service centers."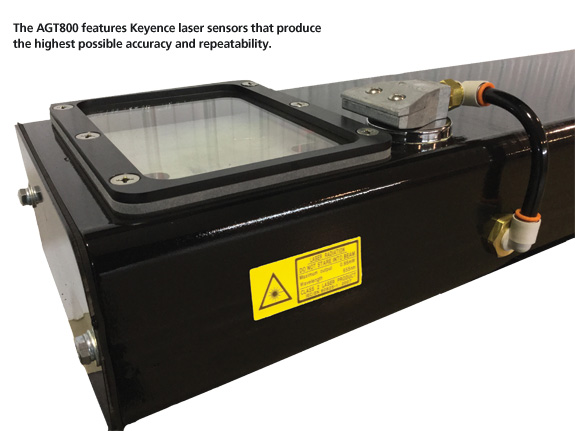 Instant results
When it came to the slitting line at Nova Steel, Gallo selected the AGT800 laser thickness gauge which is designed to measure the thickness of metals and virtually any other material processed in coil, sheet or strip form.
Introduced in 2013, the AGT800 offers a safer, improved alternative to isotope and X-ray gauging systems. The AGT800 has no radioactive source, compared to an isotope gauge. This means there are no requirements for compliance with federal and state regulations and radiation leak tests are not necessary.
"The isotope is a great gauge but we were able to get the same capabilities without all the legislative requirements that come with the isotopes. The software is also exactly identical. So, of course, we skewed to the AGT800; it became the first [one in use] in Canada at the time," says Gallo.
The AGT800 is a two-part system comprised of an easy-to-install C-frame mounted on the processing line, and an electronics cabinet which contains the computer, electronics shelf, uninterruptable power supply, monitor and other key components. The AGT800 is designed to measure materials with a thickness range of up to 0.75 inch. It uses Keyence laser sensors that emit Class II laser beams which are received back on a RS-CMOS pixel array, or a photo sensor, and determines the distance to the target material. The gauge's software uses this information to calculate the distance to the target material and precise material thickness is then determined. The AGT800 computer then translates the information instantly, automatically creating a coil report and various measurement data. This information is then stored on the gauge and can also be sent to a company server to avoid any loss in case of a power outage or other unforeseen incidents.
The S.P.C. reporting software collects and organizes the data to create detailed coil reports. The gauge also has sophisticated diagnostic screens which can make it much easier to diagnose any system problems that may arise. A.G.T.'s ISOcal system allows the gauge to check the calibration through sampling, which simplifies regular system checks. The report summaries are stored and saved onto Nova Steel's hard drive and printed for technicians to analyze data.
"The gauge charts are very clear, concise and save to our hard drive automatically. We have it set up to not only save on the hard drive but it also creates a PDF to send to our sales team," says Gallo.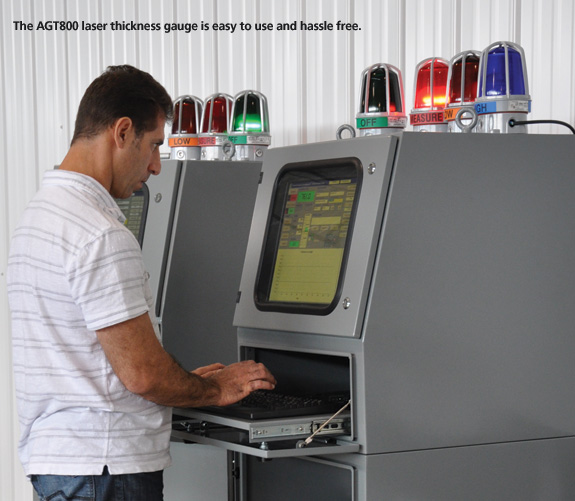 Maximum accuracy
To instruct users on the complex technology, A.G.T. technicians offer detailed training support on the AGT800's operation and maintenance requirements during the gauge startup. "When we commission a new system, it is typically a three- to four-day process," says Venters. "We make sure everything is calibrated and everything operates correctly. Then, we meet with all the operators and maintenance personnel." A.G.T. also performs semi-annual preventive maintenance checks in order to make sure the gauge is operating as designed.
"Every time A.G.T. comes in to do service work, they do a refresher for our maintenance personnel and operators. It's a real benefit to us," says Gallo.
Overall, the AGT800 has made Nova Steel's operations more productive, he notes. Previous setup on the old gauge provided poor documentation, which created problems for Nova on gauge-related claims. "It's a tremendous amount of money and time without gauge traces," says Gallo, referring to the pickling line that ran with an older DMC gauge, which prolonged processing whenever the material was out of spec.
"We can now monitor gauge-related issues and crop accordingly. If a customer wants a gauge from 0.35 inch to 0.40 inch, and the material comes in 0.34 inch, we're able to accommodate. Prior to this, you'd have to stop the line on several occasions."
The AGT800 ensures measurements are accurate before shipping out any orders. "We can now say, 'Supplier A, you're supposed to send us 0.35-inch material and you sent us 0.33-inch.' We have actual documentation showing any discrepancies," explains Gallo. "If you don't have any proof, you have to take a sample by hand. An average coil takes over 20,000 gauge points. Meanwhile, we can only do four or five by hand."
Of A.G.T., Gallo says, "They are very professional and always willing to help us out. If you look at their products, they are very progressive and always finding ways to improve."
After seeing positive results with the slitting line one month after installation, Gallo ordered an AGT800 for its outdated pickling line gauging device. The gauge is scheduled for installation during fall 2015. MM