A.G.T. offer three different non-contact thickness gauges to handle all of your plastic sheet extrusion needs.
For portable non- contact measurement on a processing line or on existing inventory offline we have the AGT600 Industrial. The small lighter C-frame can be mounted on wheels making it a versatile measuring system for different parts of your facility. The AGT600 offers instant thickness measurement with upper and lower control limits but does not provide data logging ability.
For processing lines where full sheet coverage measurement and data collection are desired, we have the AGT800. This gauge can be operated in a fixed position or can oscillate across the width of the line. The AGT800 provides thickness charting and cross sheet profile while operating in oscillating mode. Post run reports can be viewed, printed, saved and exported to your company network.
Finally, for high speed online measurement of thickness and sheet width along with a cross sheet profile of thickness per die bolt location, we have the AGT800 Extrusion (fig 1). On this O-frame gauge the laser sensors scan across the sheet above and below the material at up to three times the speed of an oscillating C-frame.
During normal operation, an interactive display (fig 2) shows real-time graphical representations of measured thickness, deviation, and a histogram of thickness values for the current run. Also displayed are thickness, width, target, upper and lower limits for both thickness and width, job number, run number, and much more.
The thickness profile screen (fig 3) shows the thickness by die bolt position. This will help to avoid thickness quality issues as material density changes. Digital warning outputs on the AGT800 Extrusion can alert you to issues that can effect you process.
Direct benefits realized through these non-contact thickness measurements include documented compliance with ISO9001 and other quality specifications, improved process control, increased productivity and scrap reduction.
For long term record keeping the AGT800 Extrusion sheet thickness gauge will produce end of run reports with production, S.P.C. data, thickness and profile graphs. These reports can be recalled on screen, printed at the gauge or saved as a PDF on the gauge or on a network drive.
Features
Reliability
Our simplified hardware design combined with Keyence ultra high speed, high accuracy laser sensors, make the AGT800 Extrusion the most reliable laser gauge in the industry. The measurement system utilizes the latest in technology, reducing the requirement for peripheral hardware. The system configuration provides a very reliable platform for thickness measurement and S.P.C. reporting.
Diagnostics
All digital inputs and outputs, analog inputs, and power supplies can be monitored simultaneously in real-time on a single screen. This feature provides for a means of greatly simplified troubleshooting.
Keyence Laser Sensors
Our development engineers tested more than a dozen laser sensor models from five different countries and made the decision to manufacture all A.G.T. laser thickness gauges with high-end Keyence thickness measurement sensors. These are the fastest sensors in the world, and they produce the highest possible accuracy and repeat ability. This translates to the most consistent and stable thickness measurements possible.
Automatic Reporting
The system automatically generates several reports, providing all the information you need in user friendly formats.
Data Storage
All coil data is automatically stored to disk. Any desired information can be easily and conveniently accessed at any point in the future, and the respective reports reprinted with relative ease.
Networking
The system is fully capable of network data storage, remote printing and control. Auto Data Gathering can be used to automatically position the C-Frame, start the measurement and reporting function. Auto Data Entry can be used to automatically enter coil data. Using both functions simultaneously, the AGT800 Extrusion can run itself with no operator intervention.
Diagnostic Data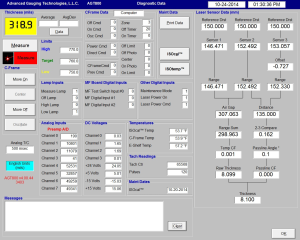 Advanced Gauging Technologies is a service oriented company, and for that reason we're proud that all our thickness measurement gauges have incredibly useful built-in diagnostic features. The diagnostic Data Screen shows the real-time status of all digital and analog I/O, nominal and actual power supply voltages, and much more. All the major test points in the system are displayed simultaneously, making troubleshooting a very straightforward process. This screen can easily be printed and emailed or faxed to A.G.T. for troubleshooting assistance.
Calibration
The AGT800 Extrusion uses ISOcal™, which is the most advanced calibration routine available on the market today. This procedure can be performed in less than five minutes. N.I.S.T. certified samples are placed on a custom fabricated sample holder. Data is calculated, and statistical outliers are automatically removed by the program. The calibration is then determined using all valid data points, and C-frame temperature is stored at that time. Once the calibration is saved, all future measurements are temperature compensated to automatically account for expansion and contraction of the C-frame.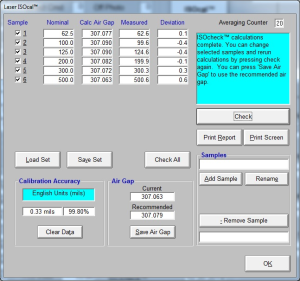 Options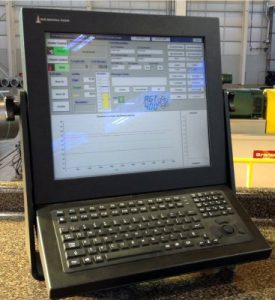 Remote Operator Control Station
Includes an additional remote monitor, keyboard, and touchpad mouse.
Offline Data Analysis
Allows easier access to coil reports by enabling the recall of reports from a single or multiple gauges simultaneously via a company network or USB stick. Reports can be accessed without interrupting the gauge measurement or line operation. Also allows coil reports to be formatted as PDF files.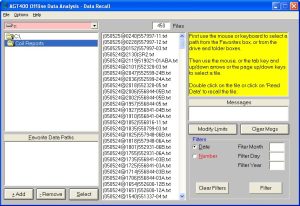 Video Monitors
Standard system includes a 17″ LCD flat screen. Optional monitors include a 17″ remote flat screen unit, and a touchscreen.
Remote System Printer
To replace the standard system local printer.
Specifications
Real World Specifications

AGT800 Extrusion
Thickness Range
0.19 to 19 mm.(.008 – .750″)
Air Gap
203 mm. (8.00″)
Measurement Range
± 25 mm. (± 1.00″)
Calibration Accuracy
< 10 μm (.39 mils)
Resolution
1μm (.04 mils)
Linearity
± 32.0 μm (± 1.26 mils)
IEC/IFDA (CDRH) Laser Class
Class 2/Class II
Analog Output Resolution
1 µm
Precision (noise)
~ 5 µm
Temperature Range
0 to 50° C
(32 to 122° F)
Relative Humidity Range
35 to 85% (no condensation)