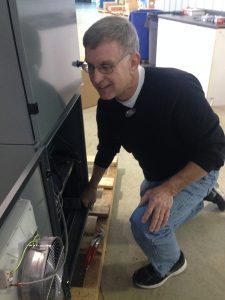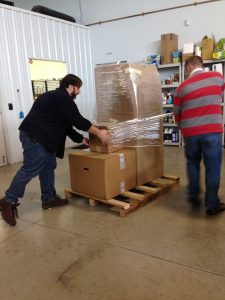 Advanced Gauging is pleased to announce that our first shipment of 2015 was a new AGT800 Laser Thickness Gauge.  The gauge was shipped on January 8th to Nova Steel in Stoney Creek, Ontario and will be installed on a refurbished 60" Pro Eco Slitter.  Vince Gallo, General Manager at Nova Steel, is very familiar with A.G.T. from his past experience at other companies and expressed immediate interest in the AGT800 soon after he joined Nova.  He visited A.G.T. in August to see the gauge in person and ended up issuing a purchase order before his return to Canada.
Although this is our first laser gauge shipment to Canada, we anticipate many more before the year is out.  We have already received a great deal of interest in the AGT800 from several Canadian service centers and we foresee no let-up in the number of inquiries we continue to receive on a regular basis.  Key benefits mentioned with most of these requests include the elimination of the need for a radioactive source, the fact that the AGT800 can measure virtually any type of material in coil, sheet or strip form, and the capability to measure up to .750" (19 mm) thick material.
To request a proposal or additional information, please feel free to contact Steve Venters or Tiffany Rea at www.Sales@AdvGauging.com or by calling (614) 873-6691.