Advanced Gauging Technologies has received the first order from Metals USA in Springfield, OH for the revolutionary AGT Mult-Width™ gauge.
The new gauge will be installed on a 60" Monarch Stamco slitting line. Metals USA is looking forward to more consistent mult width measurements and improved operator safety.
The new AGT Mult-Width™ gauge automatically measures each mult the same way every time. This provides more consistent and accurate measurements while saving time and improving the safety of operators.
After two years of development and testing the new gauge is creating a lot of interest. Look for the article on the February issue of Metal Center News featuring Greenpoint Metals. Sign up for our Webinar to learn more.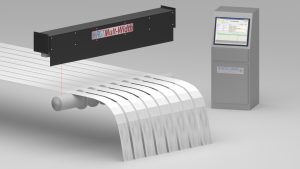 #MeasuringMadeEasy