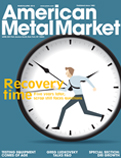 Metals Testing Transformed By 21st-Century Technology
 While larger companies dominate a significant portion of the testing equipment market, some breakthrough technologies still come out of tiny mom-and-pop companies, reminiscent of the computer technology that came out of California garages a half-century ago.  For much of the past few decades, the thickness of coil, sheet or strip metal has been measured by service centers with isotope gauges such as the AGT400 manufactured by Advanced Gauging Technologies, LLC.  An isotope gauge typically consists of a computer, monitor, printer and advanced electronics located in an electronics cabinet connected to a C-frame that includes a source head and a detector head. The C-frame is mounted on the processing line so that the material being measured passes between the source and the detector head. Isotope gauges such as the AGT400 use a very small amount of radioactive material to measure the thickness of the material passing through the C-frame. "There is a shutter in the source head that opens and releases the radiation. The detector head located on the other side of the material measures the amount of radiation that passes through," Steve Venters, Sales Manager at Advanced Gauging Technologies, explained.
Entrepreneur Ronald Cook and his son, Scott, co-founded Advanced Gauging Technologies nearly 20 years ago in Plain City, a small town halfway between Columbus and Marysville, Ohio. The company's small staff manufactures several AGT400 isotope thickness gauges annually and services more than 400 gauges, most located in metal service centers across North America. About half the devices serviced are isotope thickness gauges manufactured by Advanced Gauging Technologies.  Isotope thickness gauges comprise only a small part of the total cost of a production line, and Advanced Gauging Technologies said its product typically "pays for itself within a year or less." But there is one drawback to an isotope thickness gauge: the radioactive material used in the gauge. "It's a very small amount of radioactive material, basically the same material used in many smoke detectors," Venters said.  Still, because the material is radioactive it must be licensed by the U.S. Nuclear Regulatory Commission (USNRC) and inspected at regular intervals, which means paperwork requirements for both the vendor and the customer.
As a result, Advanced Gauging Technologies has spent the past two years designing and testing its new AGT800 laser thickness gauge, which it released for commercial use in late 2013.  "It works the same way as the isotope gauge," Venters said, "except it uses laser sensors mounted on the C-frame to measure the thickness of the material.  One of the biggest advantages, of course, is that there are no federal or state licensing requirements."  Advanced Gauging's first production AGT800 has been installed on a new 96-inch Butech Bliss stretch leveler/cut-to-length line at an Alabama service center.  "We're very excited about the opportunity to offer the AGT800 to our customers.  It also gives us the capability to measure additional types of materials, such as films and plastics, which opens the door for new markets," Venters said.  "Accordingly, we are anticipating a pretty good period of growth over the next few years."