A History of Advanced Gauging Technologies
Ron Cook spent many years servicing and eventually selling thickness gauges. He found the work interesting, and really enjoyed working with many of his customers. Over time, he started to envision a company based solely around customer service and satisfaction. In 1983, he finally made the decision to start a new business where he'd no longer have limitations on the level of service provided to his customers. Ron and his wife Coralie discussed potential company names. He suggested RONCOR (short for Ron and Coralie). That got vetoed by Coralie, and CORON was created to perform semi-annual service and leak tests on Gamma 100 isotope thickness gauges.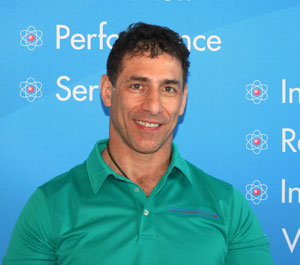 In 1996 Ron's son, Scott Cook left his purchasing career, and became a Field Service Technician for CORON. Joining his father on the road, Scott's first customer visit was to Feralloy Corporation in Granite City, Illinois in August 1996. Scott was fairly bulked up from lifting at the time, and amusingly, one of the first customers they visited together asked Ron if Scott was his bodyguard. Over the next year, Scott and Ron traveled all over the mid-west and southeastern U.S., taking care of isotope thickness gauges. The following year they combined their customer service, sales, purchasing, and management skills to co-found Advanced Gauging Technologies, L.L.C.
Ron and Scott listened to their customer's dissatisfaction with the outdated technology of all the gauges on the market and made the decision to design a gauge for the next century. They followed the advice of their customers to design the most user friendly and cost effective gauge on the market today. Michael C. Bertin Ph.D., the original Gamma GR100 designer, was hired to help develop the AGT400 Isotope Thickness Gauge.
Scott and Ron knew their competitors' products quite well from servicing various brands of thickness gauges, so they worked with Mike to incorporate all the best features of every other gauge into their own design. The result was nothing short of the best isotope thickness gauge on the market. The new product, coupled with A.G.T.'s reputation, was in such demand that eight AGT400 systems were ordered before there was even a working prototype! Since its inception the AGT400 has gone through many changes, many of which were the result of suggestions from our customers. By listening to customers and responding to their needs, the AGT400 has evolved into the market leading isotope thickness gauge for the North American steel service center industry, with over 250 systems currently in service.
In the early days, the business operated out of Ron and Coralie's garage/basement. Electronics cabinets were unloaded from trucks using the family Kubota tractor. A couple of black German Shepherd dogs (Terminator and Princess) were the acting security system.
In August of 2001, Ron Cook lost his battle with multiple myeloma (a rare form of bone cancer) and in his memory, Advanced Gauging Technologies donates each year to the MMRF (Multiple Myeloma Research Foundation) along with other charities . Ron's work ethic and customer relation skills continue to remain our standard.
By 2004, A.G.T. had outgrown Mom and Dad's garage, and the company was relocated into a new 12,000 square foot facility in Plain City, Ohio. Previously home to one hundred acres of farmland, this new facility was one of the first few establishments to be built in what has become a growing, modern industrial park. Since then, dozens of businesses have established residence in the same park. A.G.T.'s Plain City headquarters houses the sales, marketing, and research and development departments, and is where all the gauges are designed, manufactured, assembled and tested.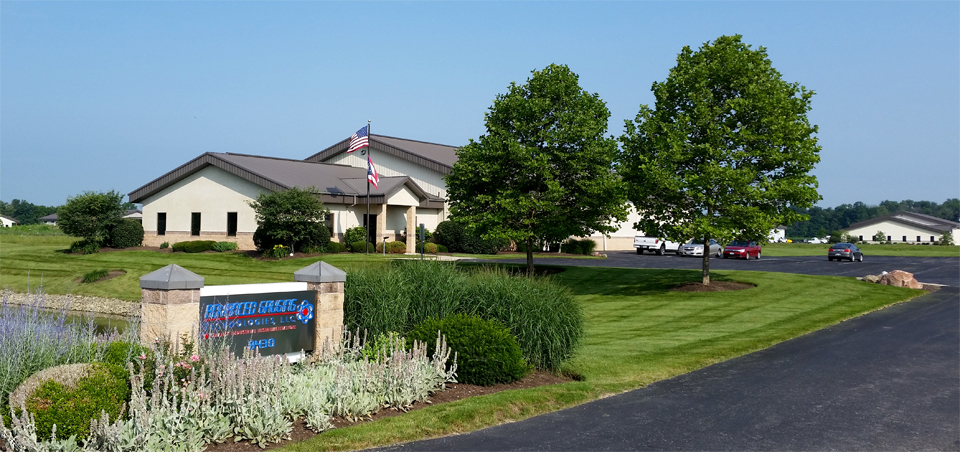 Recognizing the need for an alternative to traditional isotope thickness gauges, A.G.T. began development of the AGT800 Laser Thickness Gauge in 2012. Much like the AGT400, the first AGT800 system was sold while in the final stages of development. Shipped in late 2013, the first laser gauge was installed on a 96" Butech CTL/Stretch Level line at Jemison Metals' new plant in Trinity, Alabama where it continues to provide immediate and accurate thickness data.
The AGT800 (patent) was designed to measure virtually any material that is processed in coil, sheet or strip form. This design has allowed A.G.T. the opportunity to begin expansion into other markets including non-ferrous metals, plastic, rubber, vinyl, fiber, paper and film. Since it's an optical system, there are no licensing or leak test requirements such as those associated with isotope and X-ray gauges. Additionally, there is no need for specialized radiation safety training, radiation safety officer, or federal and/or state licensing and administration. Finally, there are no cumbersome shipping procedures and expensive radioactive material disposal fees to worry about.
In 2014, Advanced Gauging Technologies partnered with the United States Department of Energy to perform a security enhancement audit of our facility. Using the information gained from this audit a plan was implemented to increase existing security measures. This plan included upgrading existing access control systems, adding 24/7 surveillance cameras with night vision, upgrading safes and improving the existing alarm system. These improvements were made in close cooperation with local law enforcement to improve response times and have policies in place in case of emergencies.
As a result of these security enhancements, A.G.T.'s Ohio Department of Health License for Radioactive Materials was amended, allowing the company to accept isotope sources for recovery and/or disposal. This includes many common sealed sources used in industrial, medical, food processing and other industries as well as sources used in research and development.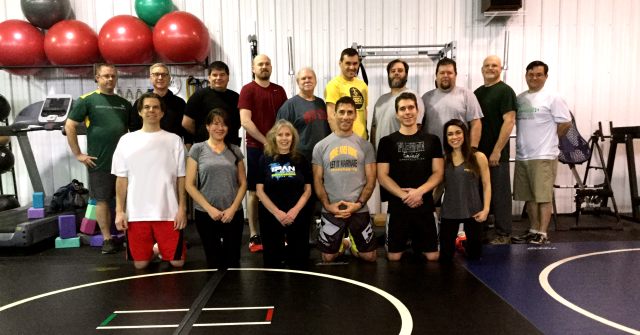 Today A.G.T. continues to provide the most reliable and thorough service in the industry, currently servicing more than 400 gauges at 165 customer locations throughout North America. We also offer our customers unlimited no charge support via telephone, fax, email and the internet via TeamViewer. We even maintain a listing of when inspections are due, and call ahead of time to schedule visits. No wonder all our customers love us.
A.G.T. doesn't just treat their customers well. They are very proud to also spoil their employees with generous job benefits, including an in-house health and fitness program. They do everything in their power to create an environment that fosters teamwork and employee retention. As of March 2015, 44% of their employees and sub-contractors had remained with the company for ten years or more. In 2015, Advanced Gauging Technologies was recognized as one of the Best Places To Work in central Ohio. This is a testament to how well A.G.T. treats their people.
Company Mission and Vision Statement: We provide our customers with the most accurate, dependable, and affordable non-contact thickness gauges available, using only the highest quality components and strict manufacturing standards. All of our products are backed by a highly motivated team of associates dedicated to delivering outstanding technical support and exceptional customer service.