Want a Competitive Edge?
So what is the big deal about thickness gauges anyway? A competitive edge. That's right, they give you an advantage over companies who simply do not have gauges. Imagine a constant, precise thickness reading throughout the entire length of your coil….and the best part? You never have to stop the line to take a single measurement. Did you know that A.G.T. offers a variety of thickness gauges to fit different customer needs? Each order is customized. Concerned with gauges that use radioactive sources? No problem. We have laser thickness gauges too.
You may be thinking you cannot afford a gauge. We can work with you to structure a proposal designed to meet your needs. Think about the increased productivity and reduction in scrap you will see. Keep high quality standards because our SPC reporting features state of the art coil reports which are great to send with your shipments. Coil reports are automatically generated and saved after each run so you can recall detailed information at anytime. Measurements can be integrated within your own communication systems. So…are you going to lose a big contract because your measurement method isn't as accurate as it could be, or are you going to call us and talk about how we can get a thickness gauge in your facility?
Did You Know?
A working Uninterruptible Power Supply (UPS) can protect a gauge's electronics, especially industrial grade computers, from sudden power surges and/or outages.  It can also help you avoid a loss of important data.  Replacing a missing or non-functioning UPS is a wise investment, especially compared to the cost of a new industrial grade computer or other key electronic components. Contact us today to place an order.
A.G.T. Selected as Best Place to Work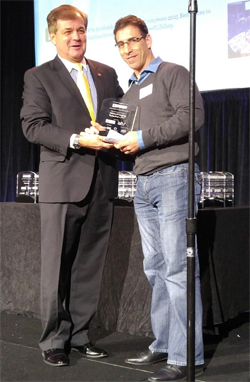 Advanced Gauging Technologies has been selected by Columbus Business First as a central Ohio area Best Place to Work. A record 235 companies were nominated with selections based on the results of employee engagement surveys conducted by sponsor Quantum Workplace.
The award, announced at a special presentation luncheon in Columbus on November 12th, was accepted by Scott Cook, A.G.T. Owner and President. All attendees were asked to keep their acceptance remarks to 10 words or less. Scott's comments were "We encourage fun, health, communication, teamwork and world class products".
As a team, we couldn't have said it better. We pride ourselves on maintaining an entrepreneurial spirit, open door policy, outside the box thinking and sustaining a constant focus on customer satisfaction. We are all very proud to have been selected for this outstanding honor.
Welcome Kevin to the A.G.T. Team!
Kevin Gee was born in central Ohio and is the youngest of four boys. He has resided in the Columbus area all of his life with the exception of living in Cincinnati for a few years. Kevin was married for 14 years, has a son, Bryden, and a silky terrier name Odie.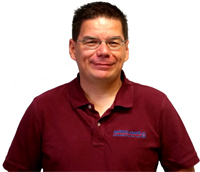 As a child, Kevin explored the parks and rivers near his home. He graduated from Westland High School where he was involved with a variety of activities ranging from Horticulture to Applied Physics. While in high school, he also attended Paul C. Hayes Technical School for Electronics and Columbus State Community College for Electronics Engineering. Kevin was hired as a Xerox Field Service Technician after scoring the highest (ever) in the region on their aptitude test. From there, he worked for HP, subcontracted to Chase bank as an IT Coordinator while at the same time going to DeVry for Network Management. Kevin put his technical career on hold due to health issues with his wife and mother-in-law, and transitioned into an active role in their medical care.
Nowadays Kevin loves to travel, especially to Mexico. He is currently working on learning Spanish to overcome the language barrier while there. His hobbies include working on his car and car audio, listening to music, and dancing (he has taken ballroom and salsa lessons). He also enjoys canoeing, hiking, and other outdoor activities. When the sun is shining, he puts the top down on his car and just drives. Kevin recently visited Costa Rica where he went waterfall rappelling, zip lining, whitewater rafting, and even took some surfing lessons. Last spring he cruised through the Smokey Mountains with his car club and drove the Tail of the Dragon and Cherohala Skyway. He already has plans to return next year and every year after with them.