A.G.T Welcomes Mike Collier!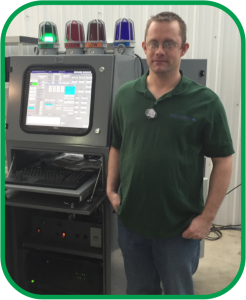 The latest addition to the A.G.T. family is Mike Collier, our new Production and Inventory Assistant. His responsibilities include coordinating production schedules, quality control, shipping, purchasing and receiving. Mike's previous experience in the Army and food distribution industry gives him many tools necessary to perform these tasks. He is also capable of assisting in other areas as needed.
Mike is originally from northwest Ohio, near Lima, where he graduated from Allen East High School. After high school, he joined the U.S. Army and served as an Infantryman in the 101st Airborne Division (Air Assault). He was deployed to Panama and Egypt for peacekeeping operations. He served two years in Germany where he helped train American and European military forces for their normal NATO commitments, as well as peacekeeping operations in Bosnia. His training includes Airborne and Air Assault and he is a recipient of the Expert Infantryman Badge.
After eight years in the Army, Mike attended The Ohio State University where he studied History and German language. In 2012 Mike married Jessica, and became father to his wife's daughter Lila. In April 2013, Jessica gave birth to a baby girl, whom they named Merida. Besides spending time with his family, Mike is an avid reader of fantasy and military history with a special interest in Napoleonic and medieval history. During the fall he can be found rooting on his favorite football teams The Ohio State Buckeyes and the Green Bay Packers. He also enjoys painting and modeling military miniatures for war games.
Tiffany Rea Joins the A.G.T. Team
Tiffany Rea started her career with A.G.T. in November and has quickly proven to be a great addition to the team. Her enthusiastic and vibrant personality brings new, outside-of-the-box ideas to the company. Tiffany's primary focus is sales and marketing where she has been putting her skills to good use. She has not only worked hard to expand our presence in international markets, she has also accepted the responsibility to review and begin designing new marketing materials.
Tiffany was born and raised in central Ohio. After graduating high school she then moved to southern Ohio and studied at Wilmington College where she earned her Bachelor's degree in Business Administration and Marketing (2013). She and her husband, Chris, now reside in Powell, Ohio with their dog, Maya. Tiffany is very much into fitness training and yoga. You will often times find her in the kitchen cooking different healthy recipes. She is a people person who loves spending time with her family. Reading, fashion, ice hockey, traveling, and Ohio State football are some of her favorite things. Tiffany's philosophy on life is to not take it too seriously because no one makes it out alive. With that being said, you can always find her with a smile on her face and an uplifting story to tell.
First AGT800 Laser Thickness Gauge In Canada Becomes Operational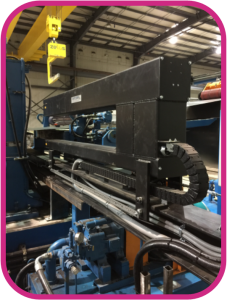 Our first AGT800 Laser Gauge in Canada is now fully operational at Nova Steel's Stoney Creek, Ontario facility. The gauge was shipped in early January and installed on a refurbished 60" Pro-Eco Slitter in February, and A.G.T. completed the startup and training later that month. Vince Gallo, Nova Steel's General Manager, is very familiar with Advanced Gauging from his past experience with other companies who use the AGT400 gauge. He expressed an immediate interest in the new laser gauge soon after he joined Nova Steel and visited Advanced Gauging last August to see the gauge in person. Vince was so impressed that he gave us a purchase order before he returned to Canada.
We continue to be very excited about the high level of interest we are receiving in this new technology from customers all over the world. As always, please feel free to contact Steve Venters or Tiffany Rea for more information or to schedule a visit or to request a quotation.
Did You Know?
Annually, the staff at Advanced Gauging Technologies has a health physicist teach a training class about radiation safety, physics of atoms, nuclear binding forces, particle emissions, and a host of other cool nuclear physics topics.