Isotope Source Disposal and Recovery Now Available!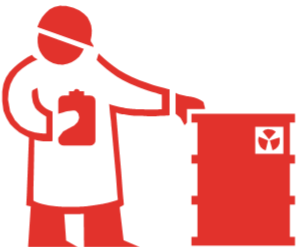 Do you have a radioactive source sitting around taking up space and costing money to meet federal and/or state leak test requirements? If so, read closely because we have some very exciting news!
Advanced Gauging Technologies, L.L.C. has been awarded a contract by HRE Sparrows Point, LLC for source disposal at the former Bethlehem Steel / Severstal / RG Steel mill in Sparrows Point, Maryland. This project is in coordination with the U.S.N.R.C., Maryland Department of Energy, Ohio Department of Health and Los Alamos National Laboratory.
In preparation for this venture, we recently completed a $100,000 plus project to enhance our building's security, and we are operating under U.S.N.R.C. "Increased Controls". This means A.G.T. is now able to offer a new program to dispose of most isotope sources for a one-time fee. We also have a monthly storage program. If you are interested, please email [email_link email="sales@AdvGauging.com" variation="teal"]Sales@AdvGauging.com[/email_link] or call us at (614) 873-6691.
New Website Design and Blog
We are bringing in the New Year with a new and improved web design. This layout is very user friendly and we've made it easier for you to find what you need quickly.
While you're browsing our sleek new design, be sure to check out our blog. We have been posting entries for a few months now, so get the scoop today. Also be sure to check back every week for new posts and updates at https://www.advgauging.com//blog/.
Maquina Named as A.G.T. Sales Representative in Mexico
Advanced Gauging Technologies, L.L.C. is pleased to introduce Maquina as our new Sales Representative in Mexico. Daniel Bortoni is the owner and will be our primary contact for sales and marketing activities throughout the country. Daniel and his staff have over 100 years of combined experience in the Mexican metals market. They are located in Monterrey and are well-positioned to service the entire country. Please feel free to contact Daniel for all product information, sales literature, requests for quotes, and/or any other issues you would like to discuss.
A.G.T. Implements Technician Certification Program
Advanced Gauging Technologies, L.L.C. has established a new thickness gauge certification program to assist in the ongoing training and development of our field technicians and other key A.G.T. personnel. The program includes comprehensive tests on the knowledge and ability to service various models of thickness gauges, including many obsolete gauges whose manufacturers are no longer in business. Gauges that are currently covered under this program include the GR100, GR200, DMC410, DMC450, Weston 5310, Weston 5320, Loral 3500, Measurex 350 and the Radiometrie RM206 along with our own AGT400 and AGT800 gauges. Our certification program is designed to be a continuous improvement process that involves regular training and the sharing of knowledge between our technicians so that you can be sure you always receive the absolute best service available in today's market.
A.G.T. Welcomes Customer Visits
Next time you're in the Central Ohio area, please feel free to stop in and visit our facility. We truly enjoy the opportunity to demonstrate our products and answer questions about our thickness gauges. Such visits also provide customers with the opportunity to learn first-hand how user-friendly our gauges are to operate and to see all the different functions and features that are available. Some of our key visitors over the past few months have included Honda of America, Voss Taylor, Nova Steel, Valmont Industries, and Heidtman Steel. Please feel free to contact Steve Venters [email_link email="stevev@AdvGauging.com" variation="teal"]SteveV@AdvGauging.com[/email_link] or Tiffany Rea [email_link email="TiffanyR@AdvGauging.com" variation="teal"]TiffanyR@AdvGauging.com[/email_link] to schedule a visit.