Measure virtually any material with the latest non-contact
laser thickness measurement technology.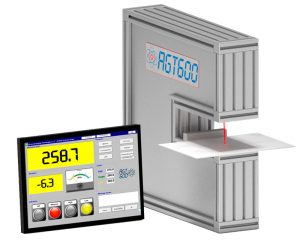 The AGT600™ Desktop Laser Thickness Gauge is designed to be a simple and accurate measuring system. It is a perfect fit for QC departments, labs or shop floors where a quick and accurate thickness measurement is needed. Sampling with the AGT600™ Desktop eliminates the inconsistency problem of hand measuring with micrometers by different people.
A simple touch screen provides instant thickness and deviation information. Exceeding the entered target thickness values and limits will provide digital outputs that can be used for QC lights and a visible indication on the screen.
The AGT600™ is a non-contact laser thickness gauge and has no sensitive mechanical parts. The system produces accurate and repeatable thickness measurements. Maintenance is as simple as keeping the sensor heads clean and occasional calibration check.
Contact us today to get an AGT600™ in your plant
Our specifications below reflect real-world accuracy and performance not laboratory conditions specified by some other companies.
Features
Reliability
Our simplified hardware design combined with Keyence's ultra high speed, high accuracy laser sensors make the AGT600™ the most reliable laser gauge in the industry.
Ease of Installation and Setup
The AGT600 can be setup on a desk or bench in minutes. For shop installation the gauge can be mounted in a number of ways using the T-slots in the frame. The touch screen can be mounted to the gauge, set on the desktop or mounted anywhere within 300 ft.
Certified and Easy Calibration
Our system features a fast and accurate calibration method, called ISOcal™ that establishes calibration over a range of samples and reports its calibration accuracy. Our calibration procedure uses N.I.S.T. certified and traceable aluminum samples.
No Material Marks or Scratches
The AGT600™ is a non-contact measurement system, so there is never any risk of our equipment creating marks or scratches on your material.
Operational Functionality
Two non-contact, high-precision, semiconductor laser sensors are mounted above and below the strip or sample to be measured, and their beams are focused on the same spot on the target material. Each sensor emits a Class II laser beam, receives the beam back on a RS-CMOS pixel array and determines the distance or range to the target material, calculating the material thickness. The system is calibrated based on this data, allowing it to provide continuous, high-speed, non-contact, accurate and reliable thickness measurements.
Options
N.I.S.T. Traceable Samples
The N.I.S.T. traceable sample includes a set of six, 6061-T6-651 alloy aluminum — certified and traceable to N.I.S.T. standards.
Custom Calibration Sample Holder
The custom calibration sample holder includes a black anodized finish.
Specifications
AGT600™ Compact Laser Thickness Gauge
Material Thickness
25 µm to 25.3 mm
(.001 to .999")
Air Gap
76 mm
(3.0")
Measurement Range
+/- 38 mm
(+/- 1.50")
Calibration Accuracy
< 10 µm
(0.39 mil)
Resolution
< 1 µm (0.4 mil)
IEC/IFDA (CDRH) Laser Class
Class 2/Class II
Temperature Range
0 to 50° C
(32 to 122° F)
Relative Humidity Range
35 to 85%
(no condensation)