The AGT600 strip thickness gauge is designed to fit into the tight spaces of roll forming and punching / shearing / blanking / bending lines. It is an economical solution to eliminate thickness related quality issues. The AGT600 is also a superb tool to compare suppliers and drive material savings based on consistent material thickness.
The AGT600 strip thickness gauge measure all kinds of metals, plastics, rubber, vinyl, linoleum and more. It provides fast and reliable thickness measurements using the latest in laser triangulation technology.
The standard system records and reports statistical process control (SPC) data for strip and sheet material. Data can be saved to local disk and/or over a network for easy recall of all material SPC information. This feature eliminates the need to maintain large files of printer paper for long-term record-keeping purposes.
Direct benefits include:
Documented compliance with ISO9002, QS9000, and other quality specifications
Reduced tooling and equipment ware by ensuring correct gauge is being used
Increased productivity
Scrap reduction
Supplier consistency comparison
Detailed material reports to the end user
Our specifications below reflect real-world accuracy and performance not laboratory conditions specified by some other companies.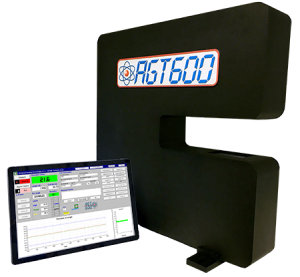 Contact us today to get an AGT600 in your plant
Operational Functionality
Two non-contact, high-precision, semiconductor laser sensors are mounted above and below the strip to be measured, and their beams are focused on the same spot on the target material. Each sensor emits a Class II laser beam, receives the beam back on a RS-CMOS pixel array and determines the distance or range to the target material, calculating the material thickness. The system is calibrated based on this data, allowing it to provide continuous, high-speed, non-contact, accurate and reliable thickness measurements.
Features
Easy Installation
The AGT600 is a plug-and-play system consisting of a compact C-frame and a PC tablet. The C-frame can be mounted easily on a mobile cart or permanently installed online.
Portable
The AGT600 comes with an unbreakable, watertight, airtight, chemical- and corrosion-proof hard case with a foam-set interior.
Keyence Laser Sensors
The Keyence laser sensors are the fastest in the world, and they produce the highest possible accuracy and repeatability. This translates to the most consistent and stable thickness measurements possible.
Reliability
Our simplified hardware configuration uses the latest in technology and increases the reliability of the AGT600.
Calibration Verification
Our system features a fast and accurate calibration verification procedure called ISOcal™.
Certified Calibration
The AGT600 calibration procedure uses N.I.S.T. certified and traceable aluminum samples.
Automatic Reporting
The system automatically generates several reports, providing all of the information you need in user-friendly formats.
Networking
The AGT600 is fully capable of connecting with a customer's network, allowing for a wide variety of options such as Auto Data Entry, Auto Data Gathering, and remote printing and/or retrieval of material reports.
Data Storage
The system automatically stores coil data to a disk and/or a network. Users can easily and conveniently access information at any time, and reprint respective reports with relative ease.
Upgradeability
Our unique system design enables future software updates to be performed in the field in a matter of minutes.
Options
Rugged Tablet Upgrade
The Rugged Tablet upgrade includes a Panasonic Toughpad FZ-G1 with sixth-generation Intel Core i5vPro processor, 8GB DDR3L SDRAM, 256GB SSD hard disk, 10.1" WUXGA IPS display (1920 x 1200 resolution), 802.11ac wi-fi, Bluetooth v4.1 and Windows 10 operating system.
Data Acquisition Package
The Data Acquisition package includes eight (8) analog inputs (+/- 10V), two (2) analog outputs (+/- 2.5V), eight (8) digital I/O, wireless connectivity to the AGT600 tablet, tachometer counter for external tach input, and 100-ft tachometer cable assembly.
TCP/IP HMI Communication
TCP/IP HMI communication enables the gauge to accept one TCP/IP streaming socket connection on a user defined port. This is done for the purpose of requesting information from the gauge or commanding certain actions to the gauge.
Offline Data Analysis
Off-line data analysis allows for easier access to coil reports by enabling the recall of reports from a single gauge or multiple gauges simultaneously through a company network or USB stick. The reports can be accessed without interrupting the gauge measurement or line operation and be formulated as PDF files.
N.I.S.T. Traceable Samples
The N.I.S.T. traceable sample includes a set of six, 6061-T6-651 alloy aluminum — certified and traceable to N.I.S.T. standards.
Custom Calibration Sample Holder
The custom calibration sample holder includes a black anodized finish.
Specifications
AGT600 Compact Laser Thickness Gauge
Material Thickness
25 µm to 25.3 mm
(.001 to .999")
Air Gap
76 mm
(3.0")
Measurement Range
+/- 38 mm
(+/- 1.50")
Calibration Accuracy
< 10 µm
(0.39 mil)
Resolution
< 1 µm (0.4 mil)
IEC/IFDA (CDRH) Laser Class
Class 2/Class II
Temperature Range
0 to 50° C
(32 to 122° F)
Relative Humidity Range
35 to 85%
(no condensation)