Saves time without the need to hand measure – AGT Mult-Width™ measures and records every mult across the entire width of the line in about 30 seconds. How long does it take your operators to measure and record every mult?
Removes inconsistency and accuracy issues – AGT Mult-Width™ measures consistently, regardless of width or thickness, with the same accuracy every time. How much do your measurements change from operator to operator?
Automatically compares measurements to specification – AGT Mult-Width™ compares each mult's specified width and tolerances to each mult measured automatically, as soon as the scan is done. How accurate and error free are your comparisons?
Improves operator safety – AGT Mult-Width™ measures, records and compares each mult's width without an operator climbing on the machinery, working over a pit or handling sharp metal.
Works automatically – AGT Mult-Width™ can work almost completely without any operator interaction. Automatically reading in specifications, performing the verification scan, recording the results, notifying for out-of-spec, and completing reports without a single screen click or button push. How many times have there been missed measurements, misread specifications, transposed numbers and blank records?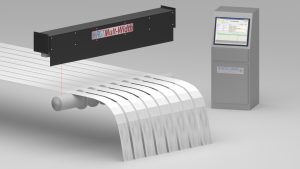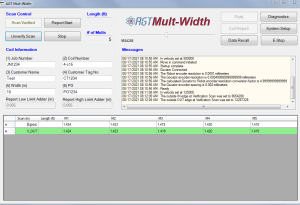 Sign up for our mult width webinar here
Network and local data storage
Comprehensive reports
No backlighting needed
Provides mult width verification and documentation
Real-time information display
Low maintenance
Unaffected by ambient light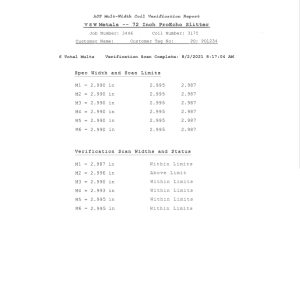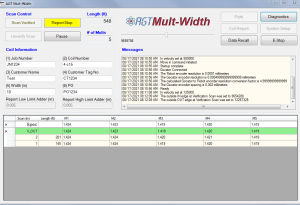 Contact us today to get AGT Mult-Width
™
in your plant
Features
Reliability
The AGT Mult-Width™ system configuration provides a very reliable tool for measuring, verifying and reporting mult widths. The laser sensor continuously traverses the slit material on an industrial robot consistently measuring and recording the width of each mult.
Data Storage and Analysis
Mult width verification is saved with date and time stamp and is included in the coil report documentation. All mult width data is automatically stored on the system and/or on a networked drive. The data is available for analysis with our optional Offline Data Analysis Software or a spreadsheet. 
Ease of Installation
The AGT Mult-Width™ system can be mounted freestanding on the floor or on existing building support structures. For existing A.G.T. customers the AGT Mult-Width™ gauge can be integrated with their existing thickness gauge. 
Control Limit and Alarm Outputs
When a tolerance value is entered the gauge will automatically set limits around each mult and alert if the limits are exceed. The AGT Mult-Width™ gauge tracks the outer edges of the outer mults to warn of sheet shift.
Real-time Display
The interactive display shows the verified set of mult width measurements, shows real-time scan of the last mult width and the last 10 or more measurements.
Options
Vertical mounting supports
Warning light tree
Off-line data analysis
Specifications
Measurement accuracy: +/- .005″
Repeatablity: +/- .002
Passline deviation: +/- 2″
Strip width up to 76": (optional 96″ width available)
Digital output for out of tolerance alarm
No limit to line speed or thickness
Unlimited number of mults
.5″ minimum mult width
22″ maximum distance above material